NXP i.MX 8X Computermodul - Colibri iMX8X
Dies ist eine Produktvorankündigung. Die Informationen sind unverbindlich und können sich jederzeit noch ändern.
Bitte registrieren Sie sich, um News zum Status und zur Verfügbarkeit zu erhalten. Wir würden uns über Ihr Feedback zu unserer Entwicklung und zu den Spezifikationen des Produktes sehr freuen.
Highlights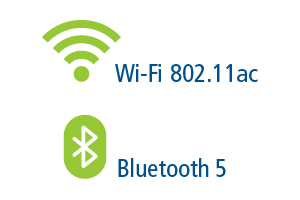 NXP® i.MX 8X, 2-4x Arm® Cortex-A35, 1x Cortex-M4
Multiple OS Deployments mit einer heterogenen Multicore Architektur
Erweiterte Hardwaresicherheit und Safety Features
On-Board Dual-Bband 802.11ac 2x2 MU-MIMO Wi-Fi und Bluetooth 5 ready
Ideal für industrielle Automatisierung, HMI, Robotics, Healthcare und viele weitere Anwendungen
Multiple Arm Cortex-A35 Cores für beste Performance und Effizienz
Das Colibri iMX8X ist ein kleines System on Module basierend auf dem neusten NXP i.MX 8X SoC. 2 oder 4 der neusten 64bit Armv8 Cortex-A35 Cores bieten State-of-the-Art Performance bei bester Effizienz.
Integrierte Cortex-M4 Microcontroller für zuverlässiges Real-Time Processing

Real-Time Tasks können vom Hauptbetriebssystem zum M4 Microcontroller ausgelagert werden und extrem tiefe Latenzzeiten, sowie eine höchst zuverlässige Real-Time-Performance erreicht werden. Sie profitieren von der langjährigen Erfahrung von Toradex mit heterogenen Multicore Systemen wie VF61, i.MX7 und i.MX 8QuadMax. Toradex stellt Ihnen ein einsatzbereites FreeRTOS zur Verfügung mit Inter-Process Communication.
Erweiterte Sicherheits und Safety Features

Die SafeAssure® Display Controller stellen sicher, dass wichtige Displays immer eingeschaltet sind und den richtigen Inhalt anzeigen. Support für Hardware Virtualization, Secure Boot und die neusten Verschlüsselungstechnologien bieten ein reibungsloses und sicheres System. Der i.MX8 SoC basiert auf einem 28nm Advanced FDSOI Silicon Process, um MTBF zu erhöhen und gleichzeitig die Soft Error Rates zu senken. Das äusserst robuste Flash Memory speichert Ihre Software zuverlässig über Jahre hinweg.
3D GPU für Video, Accelerated Vision und Deep Learning Inference
3D GPU mit OpenGL ES 3.1 und Vulkan® für High-Performance Graphical User Interfaces. Die Zusammenarbeit von Toradex, Qt und Crank vereinfacht die Entwicklung und den anschliessenden Einsatz mittels einer einmaligen User Experience. Hardware beschleunigtes H.265 Video Playback ermöglicht für hohe Bandbreite optimierte Videofunktionen. Die GPUs können zudem als leistungsstarke Coprozessoren agieren, um Vision und Deep Learnung Tasks via OpenCL 1.2 ES zu ermöglichen.
Toradex Colibri Computer Module Family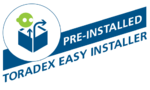 Das Modul Colibri iMX8X ist Teil der umfangreichen pin-kompatiblen Colibri Family. Die Grösse der Colibri-Module bewährte sich in unzähligen anspruchsvollen Anwendungen seit 2005. Dank der grossen Auswahl an Carrier Boards von Toradex und Drittanbietern können äusserst einfach kundenspezifische Single Board Computer zusammengestellt werden. For einzigartige und Ihren Bedürfnissen angepasste Carrier Boards stellt Toradex umfangreiches Material wie Referenzprojekte, Design Guides und Tools zur Verfügung. Unsere bewährten Partner bieten Ihnen kostengünstige Services zur Entwicklung und Anpassung Ihrer Produkte.
Direkt einsatzbereite Accessoires und Peripheriegeräte wie Capacitive Touch Displays vereinfachen die Produktevaluierung und begünstigen eine schnelle Entwicklung. Dank dem Toradex Easy Installer installieren Sie diese Produkte in kürzester Zeit.
CPU Details
CPU Name
CPU Type
CPU Clock
Floating Point Unit
NEON
L1 Instruction Cache
L1 Data Cache
L2 Cache
Memory
RAM
Flash
Connectivity
USB 2.0
Ethernet
Wi-Fi
Bluetooth
I2C
SPI
UART
IrDA
PWM
GPIO
Analog Input
SDIO/SD/MMC
CAN
Multimedia
Display Controller
Graphics Controller
Video Decoder
Video Encoder
Digital Audio
S/PDIF In / Out
2D Acceleration
3D Acceleration
HDMI
RGB
Resistive Touch
Camera Parallel Interface
Analog Audio Line in
Analog Audio Mic in
Analog Audio Headphone out
Operating System
Embedded Linux
Android
QNX
INTEGRITY RTOS
FreeRTOS
Preinstalled OS
Physical
Size
Temperature

Colibri iMX8X
Kaufen
NXP® i.MX 8X
4x ARM Cortex™-A35
1x ARM Cortex™-M4
1.2GHz (A35)
266MHz (M4)
Yes
Yes
32KB (A35), 16KB (M4)
32KB (A35), 16KB (M4)
512 KB with ECC
Up to 2GB (TBD)
4GB eMMC (TBD)
1x Host / 1x OTG
10/100 Mbit with AVB (+2nd RGMII/RMII/MII)
Dual-band 802.11ac 2x2 MU-MIMO
Bluetooth 5 ready
4x
4x
4x
1x
4x
Yes
6x
1x
3x
Dual, Independent
Vivante GC7000Lite/UltraLite
4K h.265 dec, 1080p h.264 decoder
4K h.265 dec, 1080p h.264 encoder
3x SAI, 1x ESAI
1x / 1x
Yes
Yes
TBD
Yes
Yes
1x 8 Bit
1x (Stereo)
1x (Mono)
1x (Stereo)
Supported
Supported by third party
Coming Soon
Coming Soon
Supported
Linux
67.6 x 36.7 x 6.2 mm
-40° to +85 °C
(1)
Toradex garantiert eine Mindestverfügbarkeit für Produkte - allerdings nicht für eine spezifische Version davon.
Notes: This is an early product announcement. All provided information is preliminary and subject to change.
Please sign up to get notifications about the status and availability. Any feedback on our development and product specification is highly welcome.
×Colibri Evaluation Board
×Iris Carrier Board
×Viola Carrier Board
×Aster Carrier Board
Datasheet
Datasheet
Datasheet
Datasheet
detail...
detail...
detail...
detail...
Connectivity
Supported Modules
Entire Colibri Family
Entire Colibri Family
Entire Colibri Family
Entire Colibri Family
USB 2.0
4x Host, 1x OTG/Client
1x Host / 1x OTG
2x Host (High Speed) /
2x Host (High Speed)
1x Client (Shared)
2x (High Speed)
1x Device (High Speed)
Ethernet
10/100 Mbit
10/100 Mbit
10/100 Mbit
10/100 Mbit
External Bus
Up to 32 Bit
—
—
—
I2C
4x
1x
1x
1x
SPI
4x
1x
1x
1x
UART
2x RS232, 1x RS422/485
3x RS232
3x /
3x TTL
2x TTL, 1x USB-UART
IrDA
1x
—
—
—
PWM
4x
4x
4x
4x
GPIO
up to 158
up to 26
up to 35
up to 39
Analog Input
4x
4x
4x
4x
SDIO/SD/MMC
1x 4 Bit
1x 4 Bit (microSD)
1x 4 Bit (microSD)
1x 4 Bit (Full Size)
CAN
1x
—
1x (Available with Colibri VFxx and iMX)
1x (Available with Colibri VFxx and iMX)
Input / Output
Switches
6x
—
—
—
LEDs
4x
—
—
up to 3x
Multimedia
LVDS
1x Single Channel
1x Single Channel
—
—
HDMI
1x (Through DVI-I connector)
1x (Through DVI-I connector)
—
—
VGA
1x
1x (Through DVI-I connector)
—
1x (Shared with RGB)
RGB
1x (18 Bit/24 Bit)
1x (18 bit)
—
—
Capacitive Touch
—
Adapter required
Adapter required
—
Resistive Touch
4/5-wire
4/5-wire
4-wire
—
Camera Parallel Interface
1x
—
— /
1x
—
Analog Audio Line in
1x (Stereo)
1x (Stereo)
— /
1x (Stereo)
1x (Stereo)
Analog Audio Mic in
1x (Mono)
1x (Mono)
— /
1x (Mono)
1x (Mono)
Analog Audio Headphone out
1x (Stereo)
1x (Stereo)
— /
1x (Stereo)
1x (Stereo)
Other
Type Specific Board Connector
—
—
—
Arduino UNO and Raspberry Pi B+
USB-to-RS232 Transceiver
1x
—
—
1x
RTC on Board
1x
1x
1x (*Not Assembled) /
1x
—
Included Accessory
Mating Power Plug (for X33)
24-way FFC 100mm (for X6)
Mating Power Plug (for X17)
24-way FFC 35mm (for X4)
—
—
Altium CAE Data Freely Available
Yes
Yes
Yes
Yes
JTAG
Yes
—
—
Yes
Physical
Supply Voltage
7-27V DC
6-27V DC
5V DC
5V DC
On-Board Power Supplies
5V 5A
3.3V 5A
5V 5A
3.3V 5A
5V (External)
3.3V 3A
3.3V 3A
Size
200 x 200 mm
100 x 72 mm
74 x 74 mm
100 x 80 mm
Temperature
—
-10° to +70° C
-20° to +85° C
-40° to +85 °C /
-40° to +85° C
-25° to +85° C

Plug and Play (Linux, macOS X, Windows XP – 10, Windows 10 IoT Core and Windows Compact Embedded 6/7 compatible)
BPSK, QPSK, 16 QAM, 64 QAM, DBPSK, DQPSK, and CCK modulation schemes
WEP, TKIP, and AES, WPA, WPA2 hardware encryption Schemes
Can be setup as a ad-hoc network via peer to peer communications
0 Module, 5 Trägerboards, 6 Zubehör