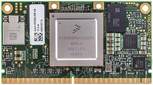 NXP® i.MX 8QuadMax, 2x Arm Cortex™-A72, 4x Arm Cortex™-A53, 1.6GHz (A72) , 1.26GHz (A53) , 266MHz (M4)
640 MHz (DSP), 4GB LPDDR4 (64 Bit), 16GB eMMC (8 Bit), Gigabit with AVB (+2nd RGMII) Ethernet, -40° to +85° C(1) Temp. Range, Availability until 2030+
(1) The RAM on the first Samples is not IT-grade, but will be changed in the future. Furthermore, the Wi-Fi component on the module is limited to an operating temperature range of -30° to +85°C. As this component is not deemed boot-critical, the Apalis iMX8QM 4GB WB IT is still listed as an Industrial Temperature product.