Ixora Carrier Board
The Ixora Carrier Board is a fully featured carrier board for the Apalis module family. Along with the standard interfaces, Ixora comes with a combination of widely used Industrial interfaces like CAN 2.0b, I2C, and GPIOs which make it perfectly suitable for Industrial and embedded solutions. It also features mSATA, Mini PCIe and Micro SD slots, which lend the board its high flexibility and scalability. The Ixora is designed to be used as either SW development board or for small to medium volumes products.
Das Ixora Carrier Board (Trägerboard) packt eine grosse Menge an Apalis Funktionen auf einen kleinen, optimalen Formfaktor, der für kostengünstige Anwendungen mit kleinen oder mittleren Volumen designed wurde. Es wurde für die Verwendung mit Apalis T30 (basierend auf NVIDIA® Tegra™ 3 SoC) und Apalis iMX6 (basierend auf NXP®/Freescale i.MX 6 SoCs) Computer-on-Modules entwickelt.
Die Mehrheit der von Apalis-Modulen unterstützten Standard-Schnittstellen wird auch vom Ixora Carrier Board unterstützt, mittels Physical Connectors, Card Slots und 2.56 mm Pitch Pin-Headers.
High-Speed Schnittstellen sind Mini PCI-Express, MicroSD, Gigabit Ethernet und mSATA. Dank Unterstützung gängiger Schnittstellen der Industrie, wie I2C, SPI, RS232, CAN und GPIO ist das Ixora Carrier Board perfekt für Industrie- und Embedded-Anwendungen geeignet.
Unterstützte Multimedia-Schnittstellen sind HDMI, LVDS, VGA, TFT LCD, Digital and Analogue Audio, 10 bit parallel camera interface und Resistive Touch.
Das Carrier Board Ixora V1.1 ist mit allen Apalis-Modulen ausser dem Apalis iMX8 und den TK1 SKUs kompatibel
Das Carrier Board Ixora V1.2 ist mit allen Apalis-Modulen kompatibel
Zubehör

Toradex bietet standardmäßig Zubehör an, das direkt in Endprodukten verwendet werden kann. Für einige dieser Zubehörteile sind Konstruktionsdateien mit Montagezeichnungen, Schaltplänen und Altium-Projekten verfügbar.
2 Trägerkarten, 9 Zubehör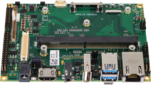 Small form-factor Apalis Arm Computer Module family Carrier Board
Connectivity: USB 3.0: 2x Host, USB 2.0: 1x Host/ 1x OTG, Gigabit Ethernet, 2x I2C, 1x SPI, 4x PWM, 4x ADC, 2x CAN, 2x LEDs, up to 40 GPIOs
Multimedia: Audio out: 1x (Stereo), Audio in: 1x (Stereo), 1x/ 1x S/PDIF In/ Out, 1x 10 Bit Camera Parallel Interface, 4/5-wire Resistive Touch
Physical: 7-27V DC Supply Voltage, 5V 5A, 3.3V 5A On-Board Power Supplies, Size: 125 x 90 mm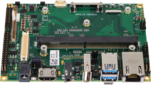 Small form-factor Apalis Arm Computer Module family Carrier Board
Connectivity: USB 3.0: 2x Host, USB 2.0: 1x Host/ 1x OTG, Gigabit Ethernet, 2x I2C, 1x SPI, 4x PWM, 4x ADC, 2x CAN, 2x LEDs, up to 40 GPIOs
Multimedia: Audio out: 1x (Stereo), Audio in: 1x (Stereo), 1x/ 1x S/PDIF In/ Out, 1x 10 Bit Camera Parallel Interface, 4/5-wire Resistive Touch
Physical: 7-27V DC Supply Voltage, 5V 6A, 3.3V 8A On-Board Power Supplies, Size: 125 x 90 mm