Asymmetrical multicore processing for reliable, complex embedded systems, presented by Toradex
Toradex, in collaboration with IKP-EDENTM, will be presenting a talk/workshop highlighting key insights on how Asymmetrical Multi-core processors are ideal for real-time applications. The session will be held at the IKP-EDEN premises in Bengaluru, India, on February 04, 2017.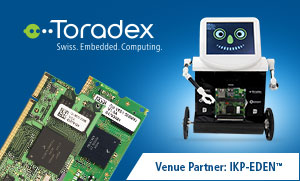 Date & Time
Feb 04, 2017 from 11:00 to 13:00
Venue
IKP-EDEN, Bengaluru, India
We will showcase our broad portfolio of products including the powerful Apalis TK1 based on NVIDIA®'s Tegra K1, and engaging demos including the famous TAQ robot featuring the new Colibri iMX7 SoM with the NXP®'s i.MX 7 processor.
The session is targeted at everybody who is interested in embedded devices programming, designing & development. We will have ample time for Q&A towards the latter half of the session.
To participate, please register here.