Embedded Linux Conference | Open Source Summit, Europe - 2022

Open Source Summit is the leading conference for developers, architects, and other technologists – as well as the open source community and industry leaders. Embedded Linux Conference (ELC) is for companies and developers using Linux in embedded products. It gathers the technical experts working on embedded systems and applications for education and collaboration, paving the way for transformation in these important and far-reaching areas.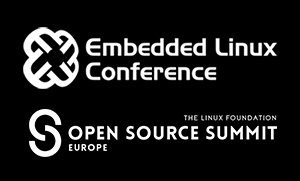 Date & Time
September 13, 2022 from 08:00 to 18:00
September 14-16, 2022 from 09:00 to 18:00
Venue
Convention Centre Dublin
Spencer Dock, N Wall Quay, North Wall
Dublin 1, D01 T1W6, Ireland
Toradex will be participating in the Embedded Linux Conference Europe 2022. This year's ELC will be in Dublin, September 13-16, 2022
Our team of experts will be there with our newest interactive demos, new materials, and more information on Torizon, our embedded Linux software.
We invite you to join our subject-matter expert, Drew Moseley, who will be presenting a talk on;
We look forward to meeting you there!