Embedded Systems Conference (ESC) 2016, India
This year's edition of Embedded Systems Conference (ESC) 2016 will host 35 renowned national and international speakers who will share their expert knowledge with the embedded developers and manufacturers present at the venue. This year's edition of the conference will be held in Bangalore, from October 04-06, 2016. The tracks held during the conference include several industry-relevant issues related to hardware, software challenges and updates, programming evolution and languages, standards and protocols, emerging trends in embedded systems, embedded systems in IoT, and many more intriguing topics.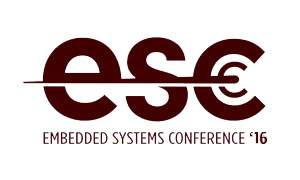 Date & Time
Oct 04, 2016 - Oct 06, 2016 from 10:00 to 18:00
Venue
Nimhans Convention Center, Bangalore, India

Toradex has been a regular participant at the Embedded Systems Conference in India thus far. Toradex Systems (India) Pvt. Ltd. will be attending the current edition of the conference as a Silver Partner, wherein it will showcase its wide assortment of pin-compatible, power-efficient ARM®-based System on Modules which are ideal for a variety of applications.
We look forward to meeting you there!