Embedded World 2016, Germany
As the most iconic event of technical development in the embedded community, the Embedded World 2016 is poised to bring together the biggest congregation of embedded professionals and manufacturers. In its previous edition, the Embedded World had a footfall of over 25,500 visitors and 902 exhibitors. The next edition is all set to witness an unprecedented number of innovators, design engineers, manufacturers and traders of electronic systems and components. Mark your calendars for the world's largest trade fair of its kind that will be held in Nuremberg, Germany, on February 23-25, 2016.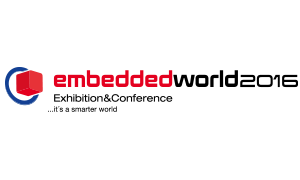 Date & Time
Feb 23, 2016 - Feb 24, 2016 from 09:00 to 18:00
Feb 25, 2016 from 09:00 to 17:00
Toradex will be present at the Embedded World 2016 with its latest range of miniature-yet-powerful Computer on Modules that are being used extensively in myriad industrial applications across the world. You can also join Valter Minute from Toradex for his speaker session on 'Windows 10 IoT Core: From the Embedded Device to the Cloud and Back'. This will take place on February 23, 2016, day 1 of the event in session #8 from 12:00 – 12.30.
Visit our booth to interact with our engineers and discuss your latest application or to ask them about new scalable solutions that will bolster your business. You will also get to see live product demos and understand first-hand why the Toradex CoMs offer a better alternative to using microcontrollers in reducing development time, increasing core competency, and much more. We look forward to seeing you there!