Live Embedded Event 2021
The second edition of the Live Embedded Event, an online embedded conference to be held on June 03, 2021.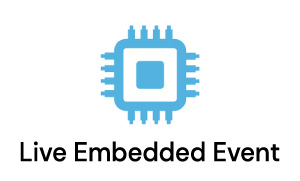 Date & Time
June 03, 2021 from 7:00 to 16:00 GMT
Live Embedded Event gathers technical experts from the embedded world for a day of conferences on all embedded topics: software update and provisioning, network connectivity (Long range / Short range), edge Computing / ML-AI, security & safety, RTOS and Embedded frameworks, firmware, BSP and Bootloader, Internet Of Things / Cyber Physical Systems, Hardware: system-on-chips, interfaces, FPGA, open hardware, Linux kernel, Build systems: Yocto, OpenWrt, Buildroot, Development process, methods and tools, Embedded Linux, Real time.
We also invite you to join our subject-matter experts, for their technical talks;
Designing OSTree based embedded Linux systems | Sergio Prado | Thursday, June 03, 2021 | Track 2 - 12:00 Hrs GMT
Why I should run my applications in containers (or, at least, consider doing it)? | Valter Minute | Thursday, June 03, 2021 | Track 4 - 12:00 Hrs GMT
Introduction to encryption for embedded Linux developers | Sergio Prado | Thursday, June 03, 2021 | Track 2 - 14:00 Hrs GMT
Be part of the day of conferences, feedbacks, workshops or lighting talks about the embedded ecosystem.
See you online!