NXP FTF Tech Forum 2016
The NXP FTF Technology Forum is looked upon as a landmark forum to provide training, discuss the challenges and opportunities being faced by the emerging new markets and latest trends in embedded technologies. This year's edition of the NXP FTF Technology Forum will be held at Austin, TX on May 16-19, 2016.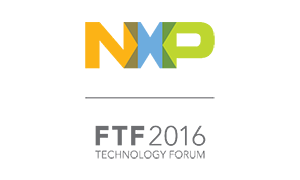 Date & Time
May 16, 2016 - May 19, 2016 from 10:00 to 18:00
Venue
Austin, TX, United States

As a NXP Proven Partner, Toradex Inc. will be attending the NXP FTF Technology Forum with its entire assortment of NXP powered System on Modules. To name a few, we would be exhibiting our NXP/Freescale i.MX 6, NXP/Freescale i.MX 7, and NXP/Freescale Vybrid modules for you at our booth. We would love to have you visit our booth (#349) and discuss the various possibilities of using these NXP/Freescale powered System on Modules in your next feature-rich application.