Qt Embedded Days 2021
Join us for Qt Embedded Days – hosted by KDAB, from April 13-14, 2021.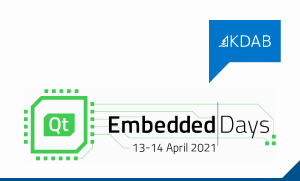 Date & Time
Apr 13, 2021 - April 14, 2021 from 10:00 to 18:00
This brand new online conference hosted by KDAB offers in-depth technical topics from embedded developers for embedded developers – especially but not exclusively for those working with Qt on Embedded Devices.
Toradex's subject-matter expert, Valter Minute, will be delivering a technical talk;
Containerize your Qt embedded application | Tuesday, April 13 | 14.30 Hrs CEST
See you online!