QtCon Brasil 2020
Online
QtCon Brasil is positioned as an important forum in Brazil and Latin America for users, universities, government institutions, companies and free software communities to share their experiences, leverage their business and stay abreast of the latest industry news.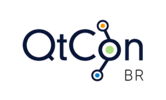 Date & Time
Sep 26, 2020 - Sep 27, 2020 from 10:00 to 19:00
The event is spread across 2 days featuring 10 technical talks by the renowned speakers from 6 Countries, a 16-hour hackathon of activities, and allows you to network with other attendees.
Toradex is a support sponsor for the event and will be providing special Toradex kits as the prize for key hackathons.
We'd be happy to answer your questions and discuss your project ideas. See you online!