Toradex Technology Workshop, Malaysia 2019
The workshop is targeted at everybody who is involved in projects, current or yet to start. This session allows them to run through issues/challenges that they may be facing and need assistance with.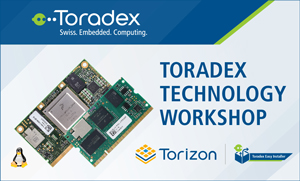 Date & Time
Aug 21, 2019 to Aug 22, 2019 from 09:00 to 17:00
Venue
Plexus Penang Design Centre, Penang. Malaysia.
Torizon: Technologies. Big picture. Containers. RFS/
Torizon – Overview (how, what, why, when, who).
In case of questions, please write in to events@toradex.com.