Announcing the availability of the Industrial Temperature Range Colibri T20 256MB IT V1.2a ARM Embedded Computer System on Module
Wednesday, December 5, 2012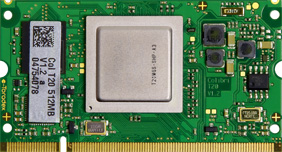 Following numerous requests from customers, Toradex has announced the availability of a further member of the Colibri Embedded Computer System on Module family. The Colibri T20 256MB IT V1.2a, based on the NVIDIA® Tegra™ 2 ARM® Cortex A9 MPCORE dual core processor, is a lower cost, industrial temperature range module.
Colibri modules feature state of the art NVIDIA Tegra 2 technology and are aimed at low power systems that require high CPU and/or graphics performance. Colibri modules are standardized, highly miniaturized and encapsulate complex hardware and software for fast and easy product development.
The Colibri T20 product family features include:
Dual Core ARM Cortex A9 Processor

2 x 1.0GHz Processor Speed

256MB – 512MB DDR2 RAM

512MB – 1GB On-Board Flash

Full HD 1080p Video (Encode / Decode), True Dual Display

Powerful 3D Rendering Performance

Up to 12 Megapixel Camera Sensor Support
More information on this latest module from Toradex can be found at: Colibri T20 256MB IT
Toradex® is a registered trademark of Montadex GmbH.
NVIDIA® and Tegra™ 2 are trademarks or registered trademarks of NVIDIA Corporation in the U.S. and other countries.
ARM® is a registered trademark of ARM Ltd or its subsidiaries.