Now supporting OpenRelief
Wednesday, December 5, 2012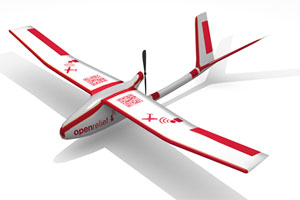 Toradex is proud to be supporting OpenRelief. The OpenRelief project was formally launched last month at LinuxCon Japan – Asia's premiere Linux conference.
Toradex donated four Colibri T20 modules and Iris Carrier boards which are now being utilised in the development of a robot plane and ground sensors. The plane will investigate and map disaster zones through modular sensors which can detect weather, smoke, roads, people, radiation and other rescue measures.
The plane is being constructed from off-the-shelf components as well as free and open source software throughout.
Toradex are specialists in embedded computer system on module hardware and software design. Our portfolio of products, including those based around the x86 and ARM architectures, have been designed and developed by our team of engineers in Switzerland. To ensure maximum supply availability and product longevity all products are independently manufactured at various sites worldwide and individually tested in Switzerland, Germany and Asia. Standardised, yet highly versatile, they allow customers to cost efficiently transform ideas and concepts into successful working products.
For more information on Toradex and its products visit http://www.toradex.com.
Latest News
Tuesday, November 7, 2023
Wednesday, October 18, 2023