Winning the Toradex Embedded Design Challenge - Flavio Ansovini and Roberto Linfante recount their journey thus far
The day when our journey together began I was working at the University, I was involved in the development of prototypes for research projects. An interesting job, but they were still projects designed by other people, and I've always had the passion and imagination to make my own projects in my spare time. In particular, at that time I was taking part in a competition organized by DARPA for the development of a flying drone. That day I met Roberto, he has a company that deals with sales and service of big UPS and generators; he was at the University to do his job on a UPS. When he entered into my office, he noticed on my desk, electronic cards and books relating to the uC programming, and this immediately attracted his attention. He informed me of his plans to build an autonomous underwater vehicle, and had already worked a long time on the mechanics and electronics, but he had missed all of the digital aspects and software. I told him about how I brought forward my project for the competition of the DARPA, the electronics and the software that I was making. At that time we synced, we were already thinking in the same way and this has never changed. The same day I went to his lab and I saw the vehicle, which at that time was only his, but soon would become ours. It was already beautiful to look at, it looked like a military vehicle, rugged but technologically advanced. It was possible to monitor all movements through a console connected to it via a coaxial cable. The commands were sent in RF, later to be divided within the vehicle from resonant bandpass filters. The mechanical part and the seals were made with centesimal precision, and the engines were made starting from commercial brushless associated with bevel gears and seals. Roberto had made a work of art and he called it "SEASTICK."
The project was ambitious - to create a vehicle that could receive a mission designed offline by the operator and was then able to run autonomously.
Despite the value of the prototype, it was obvious to both, that with this technology you could not ask for more, but to get ahead, we had to make a technological leap. It was necessary to redesign much of the electronics and use of programmable devices to manage the on-board sensors and intelligence.
I started to work with Roberto, investing all my free time and making great sacrifices to bring a contribution that was at the project height. Just from the beginning we worked on two projects together, Roberto joined my UAV team and I walked into his team for the AUV. From the first day, we knew what were our respective fields, with an intermediate zone of shared knowledge that has always allowed us to understand each other.
To make the SEASTICK autonomous, it was necessary to design all the sensors that enable it to reference itself into the surrounding environment. We had to design the controls for the actuators and low-level software infrastructure that could efficiently manage the proprioceptive sensors and actuators, as well the autopilot that would manage the vehicle during the mission. As an interface to the world and to the sensors, measure would serve a HW / SW platform at the upper level, which could manage the network via ethernet socket; this was equipped with a web server, a database, a firewall and the communication with the lower level. Toradex's Colibri T20 came to our rescue. There was also to develop the software for the user interface to the vehicle, a 3D simulator, a webapp and much more...
On the other hand, Robert worked hard on the battery supply and charger, which has a fundamental importance for the proper functioning and longevity of the product. He also designed the new rim brushless motor and together, we have created a driver specifically for it to work. With the new design of the digital part, for Robert it was necessary to revise the power unit, and integrate all the new electronic boards inside the chassis, insert the backbone for communication and make several mechanical modifications to integrate new flooded parts.
When we entered the Toradex Challenge, the work of technological renewal had already started, and we had decided that we would make every single card and sensor for the SEASTICK; everything, except the board for the high abstraction layer software. We tried the Colibri T20 that Toradex had kindly sent as a sample. Previously we had already worked on similar hardware, but always with a lot of problems related to the reliability, compatibility and technical support and documentation. With Toradex, we turned the corner and forgot all the problems we had before. We immediately liked the quality of the product and the extensive documentation at the Development Center of the Toradex site. After a short time, we worked on the Colibri T20, and it was clear to both that this was the card for us, we didn't even feel the necessity to talk about it.
It was January and it was cold, me, Gabri and Roberto decided to go skiing together... so we decided to go to Engelberg and take some time at Horw to thank our friends at Toradex! Then we took an appointment and March 1 we were there, at Toradex Headquarters. We were very happy to meet them, they are great people and we were very well received. We were allowed to pay a visit in their labs and everything has been very exciting.
The period of Toradex Challenge for us was very hard, yet fulfilling, the project had pretty much started from scratch, and we had decided on a radical solution to make all cards and produce them with professional quality. We bought a high-end 3D printer to create the RIM motors and professional CAD software for the design of mechanical parts. We have invested in the design, production and SMD components mounting devices. As everyone knows in Italy, 2013 has been a very difficult year for companies, and this led to a further challenge for Roberto's company, who won the challenge by continuing to work and allowing us to invest and move forward with our project, convinced that it would be our future. Even for me it was a very difficult year, due to the death of my father Pierino, an extraordinary man who has always believed in me and in my projects, and till the end even in sickness, he taught me to fight to bring them to term.
One thing that has always been complicated for us was to record videos to make presentations and then post them on the site of Toradex Challenge. This is because the intent of the sea missions, for us, was to test the new electronics, engines, etc... and then think about the videos is always been of secondary importance. The problem became serious when at Christmas, we did not have any videos for the final presentation and the deadline was end of the year!
We had an appointment to go out for sea trials on December 24, the goal was to make a large number of videos and photos, to use for the final post. We meet at 8:00 in the morning at Roberto's lab to load SEASTICK in the van and then go to the port. When we arrived at the Navy League of Sestri Ponente it was 10:00 o'clock and it was pouring! We waited for a couple of hours ... but the rain was not stopping...we then decided to get something to eat and at least celebrate Christmas together! After a Recco's focaccia with cheese and a beer, we left the restaurant and it was sunny, fantastic, the sea was ours! We went out in the boat with the SEASTICK – the movies turned out perfectly, the SEASTICK was perfect and the time assisted us until 19:00. The demo was made!!!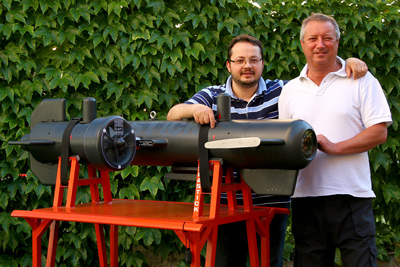 In January 2014, Toradex informed us that we had been invited at NVIDIA booths to present SEASTICK at Embedded World in Nuremberg. For us, the wait was terrible, we could not wait to be there!
In February, we went to Nuremberg, those three days were unforgettable, the guys of Toradex and NVIDIA were very nice and we were in seventh heaven. The second day at the press conference for Toradex Challenge, we were rewarded with the first prize, second was for Stefan with his glider's computer. In that beautiful contest and with those people we were sure that we had made it, we had gone that far and now, no one could stop us anymore.
Roberto and I have always worked in parallel, me on the digital world and him on the power and the mechanics. But when it was time to try a new subset, we always did it together, because to see it working piece after piece, has always been our greatest satisfaction, and we have always shared it.
Over the years, we have met people who presented themselves as friends, but then they tried to take away our project, while others have tried to take exclusive advantages from our work. Fortunately, we also met many smart people who have helped us a lot to explore new areas of research for us, and others, as our friends from Toradex, who believed in us and then evaluated for what we are, without expecting anything back. What has allowed us to move forward and achieve great results is a common passion for all forms of technology. Some wonder why we do it, we invest time and money without having anything back for years.
The answer is that we do it because we love doing it and we firmly believe that it will determine our future, it is our life and we would not do something that makes us unhappy.
Now finally, the SEASTICK has entered the market and we have started the production. There are always more people who help us, young people who believe in us and, in turn, invest in us.
Finally, the adventure began.
Author: Flavio Ansovini
Latest News
Tuesday, November 7, 2023
Wednesday, October 18, 2023