Request a Sample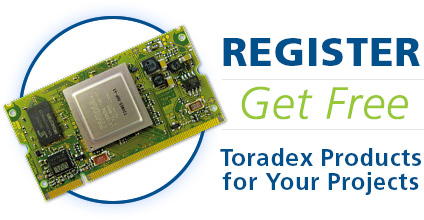 Let us help you turning your projects into successful products. Apply for free Toradex product samples and receive dedicated technical support by registering your project.
GUIDELINE
Accepted project registrations will receive free product sample and dedicated support at Toradex' discretion.
We want to give this opportunity to the best projects out there and we thus have strict registration requirements. Please make sure that you take your time, fill out the forms according to our guidelines, and provide all the requested material. We will evaluate each project submission to ensure it meets the requirements. Applications which are incomplete, offensive or unsuitable for use will be rejected by default.
We value technical thoroughness and market potential, but also the quality of the project presentation and the soundness of the development plan.
Toradex treats all project entries strictly confidential and will not make use of the provided information other than to judge your project's quality and its market potential.
In general, the number of free samples provided is limited to 1 Module and 1 Baseboard per request and company. Depending on the amount of applications, it may take a few days until we have evaluated your request and get back to you. If your request is urgent and you are willing to pay for samples, please refer to our web-shop for an immediate placement of your order.
Eligibility
Companies and Professionals.
The initiative is global.
The initiative is being run in English and your entry must be in English to be accepted.
All entrants are cautioned to review the laws in the country or province in which they reside to determine if they are prohibited from participating.
Terms and Conditions
For all requests of samples, the Legal Notice and General Terms & Conditions displayed below apply. Accepted applicants adhere to the same Terms as regular Customers in our Web-shop.
---