HENSYS
HENSYS is a Brazilian company focused on high-quality hardware design and manufacturing for embedded systems focusing on real customer necessities.
The company offers engineering services to build hardware for a variety of industries, such as scientific, agricultural equipment, automotive, energy, and many more.
Our team is composed of professionals with extensive experience in the industry, and they ensure that they stay updated with new technology trends via strong interaction with the best chip manufacturers in the market.
As a full-stack hardware solution provider, HENSYS offers manufacturing services in different quantities, such as prototypes, pilot, low and middle scale, offering the possibility of production with RoHS (lead-free) compliance, providing an extremely fast Design-to-Prototype aligned with the best production rules.
Hardware Services
Services:
Carrier Boards, Manufacturing, Product Design
HENSYS specializes in the design of performance-scalable embedded systems that support Computer on Modules(CoMs)/System on Modules(SoMs) (Toradex product family), TFT display adaptation for HMI (Human Machine Interface) and evaluation kits for many applications. This approach provides lower development time, faster time to market, performance flexibility and support for future enhancements.
Strong experience with IoT devices including Gateways and end nodes with many different technologies, for example: LoRa, Sigfox (certified Sigfox design house), Bluetooth, NBIoT, satellite, and others. As applications include the design of wearable devices (BLE beacon), LoRa Linux Based Gateway (with Toradex SoM), battery-powered sensors for temperature, soil and pest monitoring applications.
The company has specialized production infrastructure that is ideal for prototypes and small production batches with quality, helping customers to start their hardware distributions.
H-BOARD
H-BOARD is an "off the shelf" hardware platform for onboard computer and gateway applications. It includes two different display technologies that enable the possibility of indoor and outdoor use, making it very suitable for agricultural applications and machine control.

H-BOARD is compatible with the Colibri SoMs family and includes the most common peripherals available usable in the market to cover many different applications.
IPE CAPE
Ipê Cape is a board compatible with Aster baseboard that includes switches, LEDs, trimpot, buzzer, IO expander (MCP23S08), 7 segments display, T&H sensor (SI7006), IMU (MPU-9250), cryptography (ST33TPM12I2C) and an ARM Cortex-M3 microcontroller (STM32F103).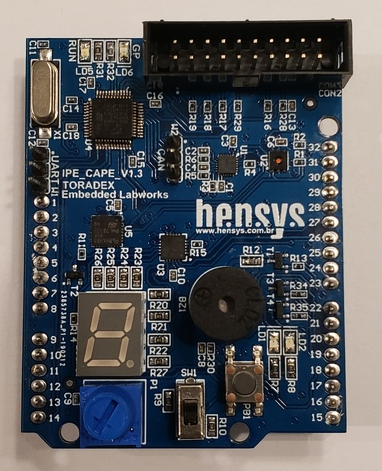 This board enables the user to test the interaction between Linux and microcontroller-based platforms with many different sensors interfaces.
---
Conheça a H-Board: uma placa base com display integrado para a família Toradex Colibri
The webinar was held in Portuguese
Joint Projects
H-BOARD an "off the shelf" hardware platform for onboard computer and gateway applications, compatible with Toradex's Colibri SoM family
Ipê Cape a board compatible with Toradex's Aster Carrier Board
Contact
Address
Estrada Municipal Antonio Fernandes de Moura, SN, Km 4,6, Bairro Pederneiras, Laranjal Paulista 18500-00, São Paulo, Brazil
Region
South America