Getting Started with Toradex System on Modules (SoMs), running embedded Linux
Date
October 18, 2019
Speakers
Ritesh Kumar, Team Leader - Solutions Architect, Toradex India
Vishwas Kanwar, Country Sales Manager, Toradex India
Language
English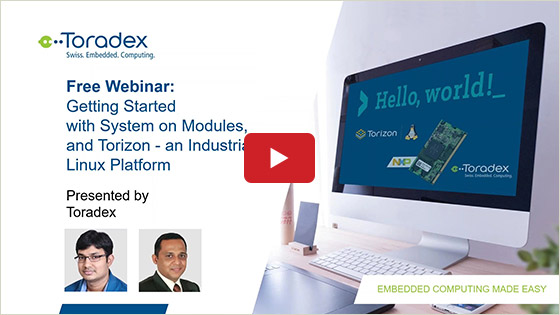 The use of embedded Linux continues to grow day-by-day, across applications, be it a headless Industrial IoT Gateway, or a futuristic fluid HMI design. With Linux, comes abundant support for legacy interfaces to transition to and enable upcoming edge technology. This makes Linux the main choice in operating systems for an embedded product.
At Toradex, we drive this to the next level with our hardware and software ecosystem by offering CoMs/SoMs with off-the-shelf carrier boards and the option to choose and design from a broad number of our ecosystem partners. This provides customers with a variety of options for the evaluation and development of products for every market need. In order to provide you with clarity and a deeper understanding of the possibilities, and available options, we bring forth this webinar to support customers in Getting Started with Toradex SoMs running embedded Linux.
While "Hello, World!" may seem like two simple words to a layman, to developers and programmers, its significance is undeniable. Seeing these two words on a screen, serial or on a Linux terminal, means their compiler, linker, and assembler are set properly and can load, run, and develop the main application and product.
Key takeaways:
The Carrier Board and its association with a SoM
Future Distribution: Torizon
Deep-dive into the updating process (Toradex Easy Installer)
Compiling the Hello World application
Understanding GPIO, I2C, UART, SPI interfaces, and more, under Linux
Please note: You will also have the opportunity to ask questions in the live Q&A session at the end of the webinar.
Registration
11:00 A.M. - 12:00 P.M. (IST)
---