Guest Webinar: An introduction to Embedded Vision with MVTec HALCON
Date
Apr 26, 2018
Speakers
Mario Bohnacker, Teamleader Solutions, MVTec Software GmbH
Daniel Lang, Chief Marketing Officer, Toradex
Language
English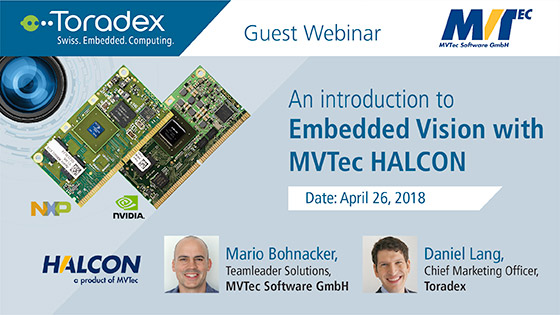 In this webinar, you will learn how you can evaluate MVTec HALCON on Toradex Arm®-based System on Modules (SoMs) in a simple and effective manner.
MVTec HALCON is the comprehensive standard software for machine vision with an integrated development environment (HDevelop). It's a popular and proven choice for industrial machine vision that is used worldwide.
We will introduce HPeek, a tool which allows you to easily check the performance of your embedded device for typical machine vision applications without the need for any license.
After the introduction, we will focus on how to get your own application running on your embedded device with the help of HPeek. For this purpose, we will create a "hello world" vision application, which gives an insight into how easy it is to develop machine vision applications with HALCON's HDevelop.
Key takeaways include:
What is MVTec HALCON?
Why HALCON on Arm?
What is HPeek and how can I use it?
How can HPeek help me to get my own application running on an embedded device?
Simple steps to build your own image processing solution with HALCON.
Please note: We will have a dedicated question and answer session at the end of the webinar.
Please Select your Time Zone

Registration
---