From Prototype to Final Product: Developing the Next Generation of IoT Embedded Systems with Low Risk and Great Scalability
Date
Mar 28, 2018
Speakers
Carlos Galuzio, Sales Manager, Sierra Wireless
Filipe Rodrigues Marques, Field Application Engineer, Sierra Wireless
Guilherme Fernandes, CEO, Toradex Brasil
Leonardo Graboski Veiga, FAE, Toradex Brasil
Language
English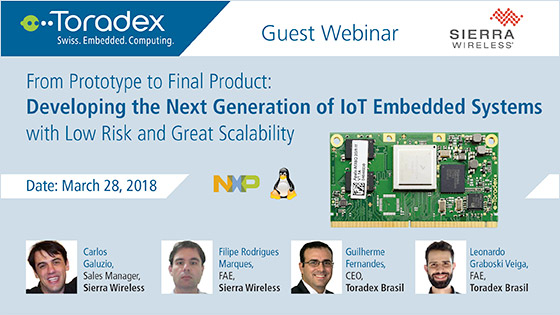 Bring your embedded system into the IoT era, in a fast-paced and efficient manner. The speed with which the world is evolving is challenging engineering teams on their schedules and changing the way embedded systems are developed. Proof-of-concepts (PoCs) and prototypes are developed within days and must quickly reach the market. In this webinar, Toradex will put together its well-known NXP®-based SoMs/SBCs together with the expertise of our guest, Sierra Wireless, in communication and IoT to showcase how you can quickly transform your ideas into PoCs, prototypes and end-products using complementary product lines which are off-the-shelf, but still allow for customization and scalability.
During the webinar, we will also showcase how to create a small PoC using Industrial grade off-the-shelf Customizable Single Board Computers from Toradex featuring NXP i.MX 6 SoC and MiniPCIe form factor communication cards from Sierra Wireless. We will present how you can read GPS data and share it with Sierra's IoT Platform over 3G or LTE connections. All the hardware used in this example allows for customization, thus enabling cost reduction in the latter stage of the product development in order to meet the cost requirements for the end-product.
During the webinar you will learn:
How to connect to the internet via a Sierra Wireless 3G or LTE/GPS MiniPCIe form factor module mounted in a Toradex Ixora Carrier Board and the Apalis iMX6Q
Basic steps to configure the Linux OS to work with the modem, read GPS data and send it to the Sierra IoT Platform
How to transform this prototype into a final product and meet the necessary cost requirements
How to receive the data in the cloud and create dashboards to gather business insights
Please note: We will have a dedicated question and answer session at the end of the webinar.
Please Select your Time Zone

Registration
17:30 - 18:30 (CEST)
---