Windows IoT Core Starter Kit
Evaluate Windows 10 IoT Core on an industrial platform today!
Windows® 10 IoT Core has arrived on Toradex modules! Experience the new Windows Operating System with this special offer including a powerful Nvidia® Tegra 3 Colibri Module with full Hardware Accelerated DirectX Graphics.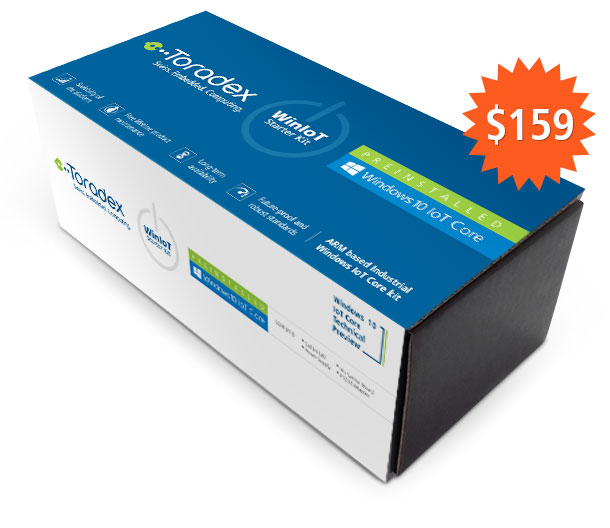 Notes:
This is a Technical Preview. The Software is at early beta stage. For a list of limitations, see our Developer Center
To know more about Toradex future plans and commitment to Windows 10 IoT Core, visit our Developer Center
Windows 10 IoT Core offers a host of features that makes it an ideal choice for developing IoT applications and compact connected devices.
Universal Windows Platform (UWP)

Universal Windows Platform allows you to write one Application and run it seamlessly on multiple Windows 10 platforms such as smartphones, embedded devices and PCs. Further, the UWP also extends to drivers, this allows you to tap into the rich driver eco-system of Windows

Visual Studio

The latest Visual Studio can be used as a development environment which provides a feature rich and convenient way of programming and debugging applications in C#, VB, C++, HTML, JavaScript and more

Azure IoT Suite

Windows 10 IoT Core easily connects to the Azure IoT Suite. The Azure IoT Suite enables you to monitor and analyze data from your IoT applications to create meaningful insights that can add operational efficiency and value. It offers preconfigured IoT scenarios, so you can easily deploy these solutions on your products

Advanced Security

The Windows 10 IoT Core offers advanced security features that are key to IoT / Industrie 4.0

Device interoperability

IoT is all about pervasive connectivity among devices. Windows 10 IoT Core supports the AllJoyn open source framework that allows devices to be interoperable. This framework facilitates devices to share their abilities and advertise them to other devices in the surrounding

I/O capability

In addition to common interface on Windows PCs such as Ethernet, Wi-Fi and USB, Win IoT core also offers simple access to low level interfaces such as GPIO, I2C, and SPI

Consistent Device Management

Use the same device management approach across PCs, Phone and Windows IoT Core devices. The modern device management stack allows to use Microsoft or 3rd party management systems
Video - Windows 10 IoT Core Introduction
Accessories included in the kit: Power Adapter and RS232 Adapter