| | |
| --- | --- |
| Date | May 3, 2010 |
| Language | English |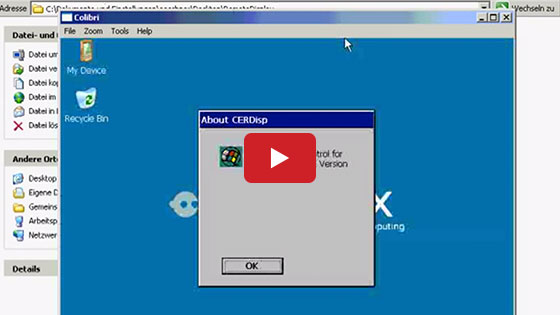 In this video we show you how to control Colibri Module from your Desktop PC using a remote connection, using a Microsoft Activesync In order to begin with, download the remote program from the Colibri downloads/softwares to the local computer. Once the Client application is copied to the module a new window will appear, and you can see WinCE desktop running on Colibri module. The communication between your PC and Colibri module is running Activesync connection. Now you have direct access to the Colibri files, and complete control over Colibri and you can start programs for instance Notepad and you can also send symbols to the Colibri using your regular keyboard and ofcourse you can end the programs as usual.
Using a remote tool you no longer need to connect keyboard or a mouse to the Colibri module. Most important you will always get proper screen, it is especially handy if you can't see anything on Colibri display because someone has chosen that display setting.
Latest Videos