Toradex Technology Workshop, Delhi 2019
Toradex brings forth the next in the series of technology workshops, scheduled to be held in Gurgaon on August 21, 2019. Toradex's subject-matter experts will be highlighting key aspects of embedded computing with a focus on embedded Linux. Participants will also be able to take part in interactive sessions with our engineers and witness exciting demos.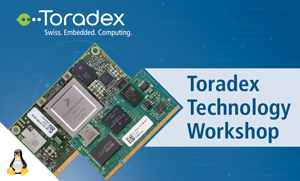 Date & Time
Aug 21, 2019 from 09:00 to 18:00
The workshop will be held at the Clarens Hotel in Gurgaon.
Prerequisites:
Please follow these steps prior to coming in for the workshop:
In case of questions, please write in to events@toradex.com.