Verdin Arm Family
Verdin is a System on Module standard expanding on the successful Colibri and Apalis form factors. It provides a revised, modern and capable interface set and focuses on ease-of-use, robustness and being future-proof.
Verdin is similar sized to the Colibri but with a higher pin count. A DDR4 SODIMM edge connector provides a cost-effective, highly reliable, shock- and vibration-resistant connection.

The future-proof pinout gives developers simple access to the latest interfaces, and a wide range of pin-compatible modules will provide excellent scalability. Three simple categories of Interface pins are available. Fully compatible pins are guaranteed to be available on every Verdin module. Reserved pins have a reserved dedicated function and are available on most Verdin modules. Type-specific pins provide access to specific features of a certain SoC, but are not guaranteed to be compatible with other Verdin modules.
The Verdin Family taps into the rich Toradex ecosystem, offering industry-leading free support, an in-house open-source Linux operating system and a range of partner operating systems including Android and QNX. A wide range of industry-specific off-the-shelf software solutions (e.g. Qt, Crank, and CODESYS) are available as easy to integrate packages. In addition, a broad range of off-the-shelf carrier boards are currently in development by Toradex and its partners.
The first Verdin modules are available with the NXP i.MX 8M Mini applications processor. A version with the i.MX 8M Nano is available as a built-to-order (BTO) option. Toradex is also actively developing a Verdin module with the upcoming NXP i.MX 8M Plus processor, which includes a Neural Network Processing Unit ideal for Machine Learning applications.
Verdin Computer on Modules Family
Videos
Simplify Modern Product Development
First look at the Verdin System on Module

Torizon Linux Platform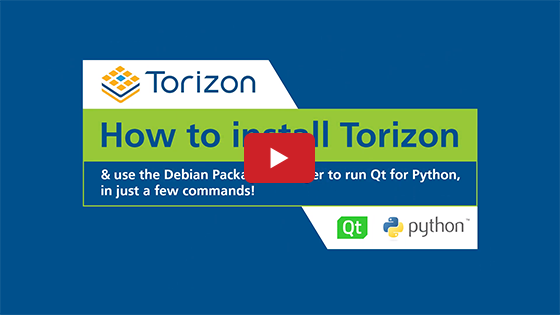 Torizon is a Linux-based software platform ideal for industrial, medical, and other highly-reliable scenarios. It is a developer-friendly ecosystem that simplifies the process of developing and maintaining embedded software...
Reference Images for Yocto Project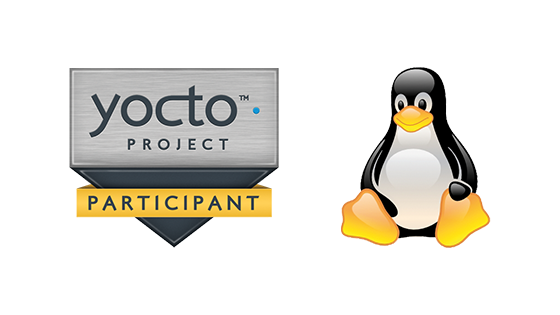 Toradex carries out in-house development and maintenance of a Yocto Project-compatible production-quality Embedded Linux BSP. Our extensive documentation...

FreeRTOS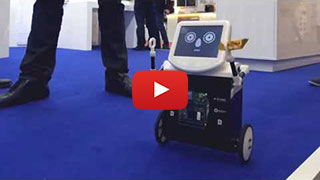 FreeRTOS is supported directly by Toradex. It is a real-time OS that runs on the Cortex-M4 cores in parallel to the main OS.

Android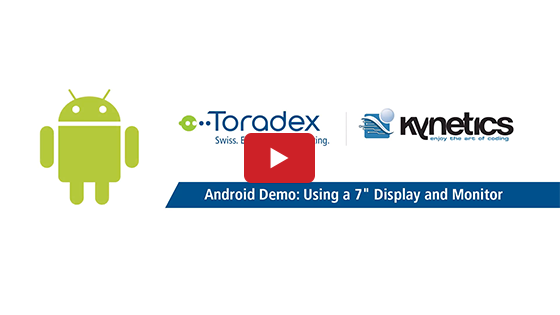 Android is supported by our service partner Kynetics. An Evaluation will be provided free of charge as a binary installer directly on Toradex Easy Installer feeds and in source-code.

QNX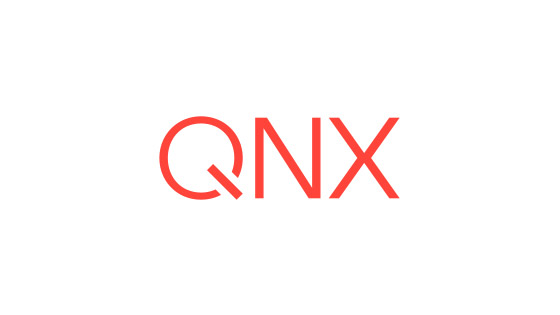 QNX is a microkernel-based realtime operating system, primarily targeted at embedded systems requiring high safety and security. For information about the current state of QNX get in touch with our Sales Team
Verdin Computer on Modules - Comparison Table
CPU Name
CPU Type
Multicore
Microcontroller
CPU Clock
Threading
Floating Point Unit
NEON
CUDA
L1 Instruction Cache
L1 Data Cache
L2 Cache
NXP® i.MX 8M Mini
4x Arm Cortex™-A53
—
1x Arm Cortex™-M4F
1.6 GHz (A53)
400 MHz (M4F)
—
VFPv4
Yes
—
32KB (A53)
16KB (M4F)
32KB (A53)
16KB (M4F)
512KB
2GB LPDDR4 (32-bit)
16GB Flash
USB 3.0
USB 2.0
USB 2.0 Debug
Ethernet
Ethernet RMII
Wi-Fi
Bluetooth
PCIe
External Bus
I2C
SPI
QSPI
One-Wire
Compact Flash
Micro SD
UART
IrDA
PWM
GPIO
Analog Input
ExpressCard
Serial ATA
SDIO/SD/MMC
LPC
SMB
Controller Hub
CAN
JTAG
CAN 2.0B
—
1x Host / 1x OTG
—
Gigabit with AVB
—
Dual-band 802.11 ac/a/b/g/n 2x2 MU-MIMO
Bluetooth 5
1x Single Lane Gen 2
—
3x
2x
1x
—
—
—
4x
—
4x
Up to 84x
4x
—
—
1x
—
—
—
1x (CAN FD)
1x
—
Individual Displays
Display Controller
Graphics Controller
Video Decoder
Video Encoder
Display Serial Interface
LVDS
SDVO 2048 x 1152
Digital Audio
S/PDIF In / Out
2D Acceleration
3D Acceleration
HDMI
Display Port
VGA
RGB
Capacitive Touch
Resistive Touch
Camera Parallel Interface
Camera Serial Interface
Analog Audio Line in
Analog Audio Mic in
Analog Audio Headphone out
HDA
—
Single
2D: Vivante GC320
3D: Vivante GCNanoUltra
Yes
Yes
1x Quad Lane MIPI DSI
Via Adapter
—
4x SAI: I2S or AC97
1x / 1x
Yes
Yes
Via Adapter
—
—
—
—
—
—
1x Quad Lane MIPI CSI-2
—
—
—
—
Supported OS
Torizon
Embedded Linux
Windows Embedded Compact 2013
Windows Embedded Compact 7
Windows Embedded CE 6.0
Windows CE 5.0
Included Runtime License
Preinstalled OS
Android
QNX
INTEGRITY RTOS
FreeRTOS
eCos
Size
Temperature
Shock / Vibration
Power Dissipation
Minimum Product Commitment
(1)The Wi-Fi component on the module is limited to an operating temperature range of -30° to +85°C. As this component is not deemed boot-critical, the Verdin iMX8M Mini 2GB WB IT is still listed as an Industrial Temperature product.
General: Some interfaces are available on pins that are not entirely compatible within the Verdin Computer on Module family. There are restrictions to using different interfaces simultaneously, please check the respective datasheet for exact details.

Verdin Development Board
with HDMI Adapter
The Verdin Development Board is a fully featured carrier board providing easy access to all features of the Verdin family. It is an ideal platform for hardware development and integration. The board is compatible with all current and future Verdin modules.
Be it USB 3.0, Gigabit Ethernet, HDMI, MIPI DSI, MIPI CSI or PCIe: the board provides access to Verdin high-speed interfaces. Transceivers for CAN, RS-232 and RS-485 let you connect industry-standard interfaces directly.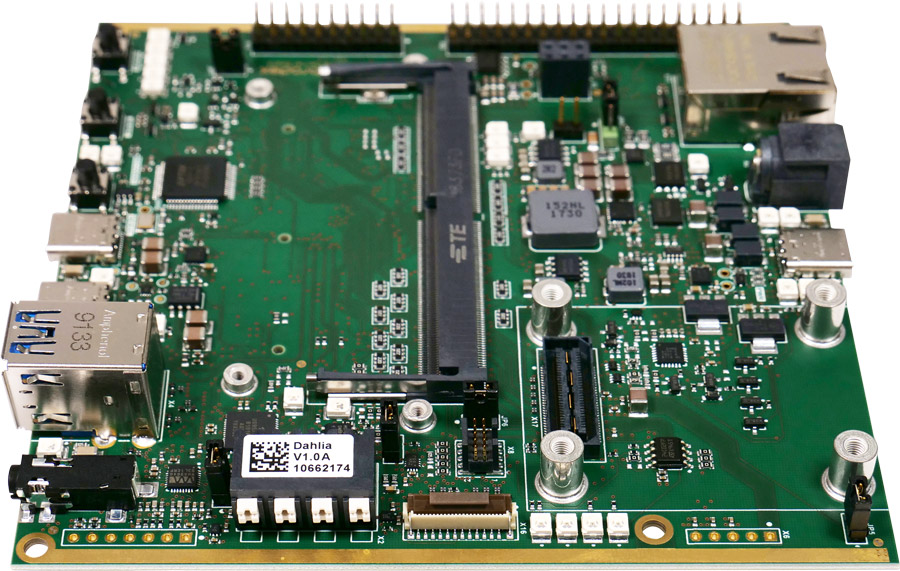 Dahlia Carrier Board
with HDMI Adapter
Dahlia is a compact carrier board providing easy access to the most common features of the Verdin family. It is an ideal platform for software development and demonstration purposes. The board is compatible with all current and future Verdin modules.
You can power Dahlia via a USB-C connector (USB Power Delivery capable). The board can also be powered via a barrel connector (5V-27V DC).
Other Computer on Module Families
Apalis Arm® Family
Apalis Arm family Computer on Modules (CoMs) offers advanced computing with supreme graphics at optimal power consumption, along with support of high speed interfaces and extensive multimedia formats. Includes free Operating System support for Embedded Linux and Windows Embdded Compact
Colibri Arm® Family
Colibri Arm family offers an extensive portfolio of pin-compatible System on Modules(SoMs). These SoMs have small form factor, complemented with the presence of many industrial and connectivity interfaces. Includes free Operating System support for Embedded Linux and Windows Embdded Compact