Product Change Notification/End-of-Life Policy
The Product Change Notification (PCN) and End-of-Life (EOL) policy defines how Toradex handles the communication to customers in case of hardware product changes or product discontinuations. Toradex follows general guidelines of J-STD-046 and J-STD-048 JEDEC industry standards.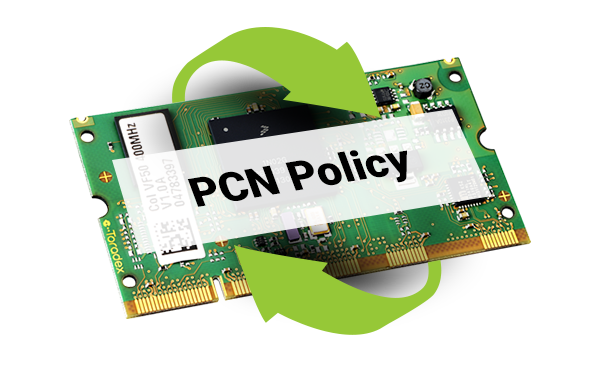 Type and Reason for Change
A major change is any change that may affect the form, fit, or function of the product or adversely affect the quality or reliability of the product. We typically issue a PCN due to:

change of critical component or PCB change
change of functionality (add/remove features) resulting in a change of datasheet parameters or electrical specification
significant change of preinstalled software or any change with software impact

Discontinuation of product that will not be available for any reason
Content of Notification

After the internal product change review is completed, a PCN/EOL notice is published on our developer website, and email notifications are sent to all PCN subscribers and volume customers who purchased the affected product within the past 2 years.
PCN/EOL Notifications include the following information:
Type of change
Reason for change
Description of change including customer impact
Affected part numbers
Important dates such as Sample availability, Last Time Buy and Last Time Ship
PCN/EOL Timelines
| Type of Notification | Last Time Buy (LTB) | Last Time Ship (LTS) | Standard |
| --- | --- | --- | --- |
| PCN | 6 months from notification | 12 months from notification | J-STD-046 |
| EOL | Minimum of 6 months from notification | Minimum of 12 months from notification | J-STD-048 |
LTB and LTS timelines are applicable to products in Volume Product state and conditional on the timely receipt of discontinuance and change notifications from third party suppliers.
Toradex will make all reasonable efforts to adhere to these timelines, however short-term discontinuance or change notifications by third-party suppliers are outside of our control and may result in shorter PCN/EOL notification periods.