An Ideal Operating System for Application Development
Android is a free and open-source operating system developed for consumer mobile phones and tablets. However, Android can also be found in embedded applications, where it provides mobile application developers a familiar development environment. Unlike our Linux offerings, Android is not provided by Toradex directly. Instead, Toradex partners with industry leaders to provide an excellent Android offering for Toradex System on Modules.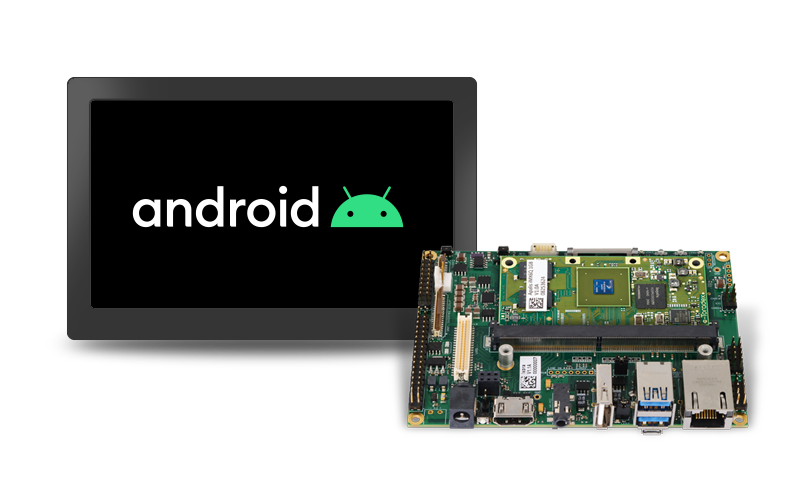 One-Click Installation

Install Android reference images on Toradex modules in one click with Toradex Easy Installer. The reference images, as well as the BSP source code, are supported by Kynetics — our preferred Android integration partner — on i.MX 8-based modules. Toradex and Kynetics have a policy of always providing you an up-to-date version of Android. On Tegra- and i.MX 6-based SoMs, ports and support are provided by our partner Antmicro.

It is often difficult to customize and maintain an embedded Android distribution. If Torizon, Toradex's easy-to-use industrial Linux platform, does not suit your requirements, you can still opt to run Android on our modules.
Free and Open Source Android BSPs

The Android BSPs for the newest Toradex Computer on Modules, based on the NXP i.MX 8/8X/8M Mini and the Nvidia Tegra K1, are free and open-source. Since the BSPs are meant for evaluation, we expect that you will customize them further. You can choose to customize them by yourself, or enlist the help of our proven Android partners.
If you are looking for a free and open-source operating system that works out of the box and is optimized for beautiful user interfaces, have a look at Torizon. Torizon is an easy-to-use industrial Linux platform. It consists of a ready-to-use OS, an expansive ecosystem and integration with popular IDEs such as Visual Studio Code. In addition to support for modern, web-based UIs, Toradex partners such as Qt, Crank and TotalCross provide frameworks for creating simple and beautiful user interfaces. TotalCross supports Android Studio, Java and Kotlin.
Proven Android Partners

Toradex's proven partners can help you customize Android BSPs to meet your specific project's needs.
Toradex recommends Kynetics as our preferred Android integrator for software services. By leveraging their expertise, you can get your product to market faster. Kynetics offers services and tools to help you develop your product, like these:
ViBE
ViBE is a bundled source code and build environment that greatly accelerates your Android builds and customization by fully abstracting the process of configuring a development environment.
Update Factory
Update Factory is Kynetics' artifact content and software update delivery IoT platform, powered by Eclipse hawkBit. It allows you to manage your devices and execute remote updates at scale.
Antmicro is an experienced engineering house with extensive Android know-how on Toradex's Nvidia-based Computer on Modules.
More About Antmicro

Embitel is an engineering company based in India that has realized several successful Android projects together with Toradex and its customers. These projects primarily used our i.MX 6-based Computer on Modules.
More About Embitel

Embedded Labworks is based in Brazil and has been providing training and consulting services on embedded Android development for more than 10 years. Toradex has collaborated with Embedded Labworks on several projects.
More About Embedded Labworks
Get Started with Android 10 on NXP® i.MX 8 and i.MX 8X Applications Processors