Operating System for PXA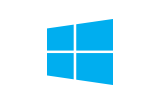 Windows Embedded Compact
Windows Embedded CE 6.0 is supported on Colibri PXAxxx modules. The development and maintenance is carried out in-house by Toradex. WEC allows you to use Microsoft .Net Compact Framework and Visual Studio.
The price of the Colibri PXAxxx modules includes a runtime license for Windows Embedded CE 6.0 Core.
For general information about advantages and features, check our Windows Embedded Compact page.