Embedded Linux Conference | Open Source Summit, Europe
Open Source Summit is the leading conference for developers, architects, and other technologists – as well as open source community and industry leaders – to collaborate, share information, learn about the latest technologies and gain a competitive advantage by using innovative open solutions. This year's Summit will be held in Lyon, France from October 28-30, 2019.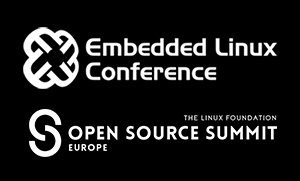 Date & Time
Oct 28, 2019 - Oct 30, 2019 from 08:00 to 18:00
Don't miss the technical talk Linux Kernel Debugging: Going Beyond Printk Messages by Toradex Partner, Embedded Labworks
Presenter: Sergio Prado | Monday, October 28 | 15:15 Hrs
Drop by the Toradex booth to take a look at our exciting product portfolio including the latest Apalis iMX8 and Colibri iMX8X with Wi-Fi and Bluetooth. You will also be able to learn more about our latest offering, Torizon, and much more. Meet our team of engineers, watch live product demos, attend interactive Q&A sessions, and understand how our SoMs can help you scale your solutions. See you there!