QtDay 2017, Italy
The QtDay 2017, is scheduled to be held in Firenze, at Hotel Londra, from June 23-24, 2017. With the mixture of Qt-in-use sessions and technical talks, QtDay Italy might rightfully remind you of QtDays in other parts of the world. QtDay Italy is the only Italian event entirely dedicated to Qt, organized by Develer, official Qt service partner.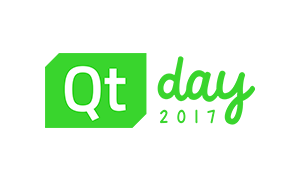 Date & Time
Jun 23, 2017 - Jun 24, 2017 from 10:00 to 18:00
Venue
Firenze, Hotel Londra, Florence FI, Italy
Toradex's subject-matter expert, Dominik Sliwa, will be present at the event and will also be delivering a talk;
Qt Development for Heterogeneous Multicore (Cortex-A7/M4) Embedded Systems | Friday, June 23 | 15:00 Hrs
We invite you to meet with our engineers on ground for any technical questions you may have regarding Toradex's products, applications, and more.