Toradex Workshop in partnership with Delta Embedded, Pune, Maharashtra
Toradex offers an enterprising workshop which aims to provide participants with key aspects of embedded computing with a focus on embedded Linux, brought forth by our subject-matter experts. The session will include exciting demos - featuring Toradex products - such as a fast boot demo, POS terminal, TAQ - the self-balancing robot, an interesting HMI demo, a face detection demo, and much more. Participants will be privy to interesting interactive sessions with our engineers and discussions on application ideas with emphasis on the Industrial Automation and Automotive industries.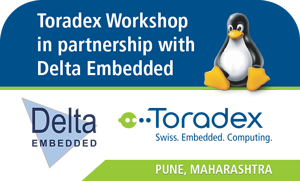 Date & Time
May 16, 2017 from 09:00 to 18:00
Venue
Delta Embedded Solutions Pvt. Ltd.
B.A.T. House, 720/10 Navi Peth, Plot No. 985, Off LB Shastri Road,
Pune-411030

The workshop is presented in collaboration with Delta Embedded Solutions Pvt. Ltd.
Timing
Activity
09.00 – 09.30
Registration
09.30 – 10.00
Introduction from Prashant Mirajkar, President, Delta Embedded Solutions Pvt. Ltd.
10.00 – 10.30
Welcome keynote from Sanjay Malla, CEO, Toradex India
10.30 – 13.00
Pallav Aggarwal, Engineering Head, Toradex India, will provide an overview of the workshop, answer preliminary questions (if any), and then commence the hands-on session
13.00 – 14.00
Lunch
14.00 – 16.00
Hands-on session continues
16.00 – 18.00
Q&A
Lunch and refreshments will be served.