Toradex Technology Workshop, in collaboration with FabLab CEPT, Ahmedabad
Toradex, in collaboration with FabLab CEPT, Ahmedabad, will be presenting a technology workshop highlighting key aspects of embedded computing with a focus on embedded Linux, brought forth by our subject-matter experts. The one-day workshop includes a detailed hands-on session, and also exciting demos - featuring Toradex products - such as a fast boot demo, POS terminal, TAQ - the self-balancing robot, an interesting HMI demo, a face detection demo, and much more. Participants will be privy to interesting interactive sessions with our engineers and discussions on application ideas across key domains.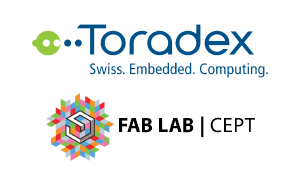 Date & Time
Oct 05, 2017 from 09:30 to 18:00
Venue
FabLab CEPT, 15, 120 Feet Ring Road, University Area, Ahmedabad, Gujarat 380009
The workshop will be held at the FabLab CEPT premises in Ahmedabad, Gujarat, on October 05, 2017.
To participate, please register here.
In case of questions, please write in to events@toradex.com.