A placa de suporte Ixora embarca um grande número de recursos dos módulos Apalis em um fator de forma pequeno e otimizada. Ela foi concebida para ser apresentar um custo viável para aplicações de volume pequeno a médio. A Ixora é projetada para ser usado com os computadores em módulo Apalis T30 (baseado no NVIDIA ® Tegra ™ 3 SoC) e a Apalis iMX6 (baseado no NXP®/Freescale ® i.MX 6 SoCs).
A maioria das interfaces padrão suportados pelos módulos Apalis são suportados pela placa de suporte Ixora usando uma combinação de conectores do mundo real, slots de cartão e pin headers.
Interfaces de alta velocidade suportadas incluem Mini PCI-Express, MicroSD, Gigabit Ethernet e mSATA. O suporte para interfaces industriais comuns, incluindo I2C, SPI, RS232, CAN e GPIO faz a Ixora perfeitamente adequada para aplicações industriais e embarcadas.
Interfaces multimídia presentes incluem HDMI, LVDS, VGA, TFT LCD, áudio digital e analógico, interface de cämera paralela de 10 bits e Touch resistivo.

Plug and Play (Linux, macOS X, Windows XP – 10, Windows 10 IoT Core and Windows Compact Embedded 6/7 compatible)
BPSK, QPSK, 16 QAM, 64 QAM, DBPSK, DQPSK, and CCK modulation schemes
WEP, TKIP, and AES, WPA, WPA2 hardware encryption Schemes
Can be setup as a ad-hoc network via peer to peer communications
1 Placas base, 8 Acessórios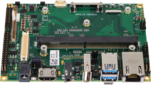 Small form-factor Apalis Arm Computer Module family Carrier Board
Connectivity: USB 3.0: 2x Host, USB 2.0: 1x Host / 1x OTG, Gigabit Ethernet, 2x I2C, 1x SPI, 4x PWM, 4x ADC, 2x CAN, 2x LEDs, up to 40 GPIOs
Multimedia: Audio out: 1x (Stereo), Audio in: 1x (Stereo), 1x / 1x S/PDIF In / Out, 1x 10 Bit Camera Parallel Interface, 4/5-wire Resistive Touch
Physical: 7-27V DC Supply Voltage, 5V 5A, 3.3V 5A On-Board Power Supplies, Size: 125 x 90 mm
Quantidade
Preço unitário

| | | | | |
| --- | --- | --- | --- | --- |
| 1-99 | 100-249 | 250-499 | 500-999 | >999 |
| US$ 99,70 | US$ 94,10 | US$ 91,85 | US$ 89,60 | RFQ |
Produto em baixo estoque. Novas unidades a caminho. Por favor
entre em contato
para detalhes.