Achieving exceptional graphics for IoT devices of tomorrow with Toradex Verdin and Crank Software
Date
July 24, 2020
Speakers
Scott Snider, Product Marketing Manager, Crank Software
Nik Schultz, FAE, Crank Software
Jeremias Cordoba, Embedded Systems Engineer, Toradex
Language
English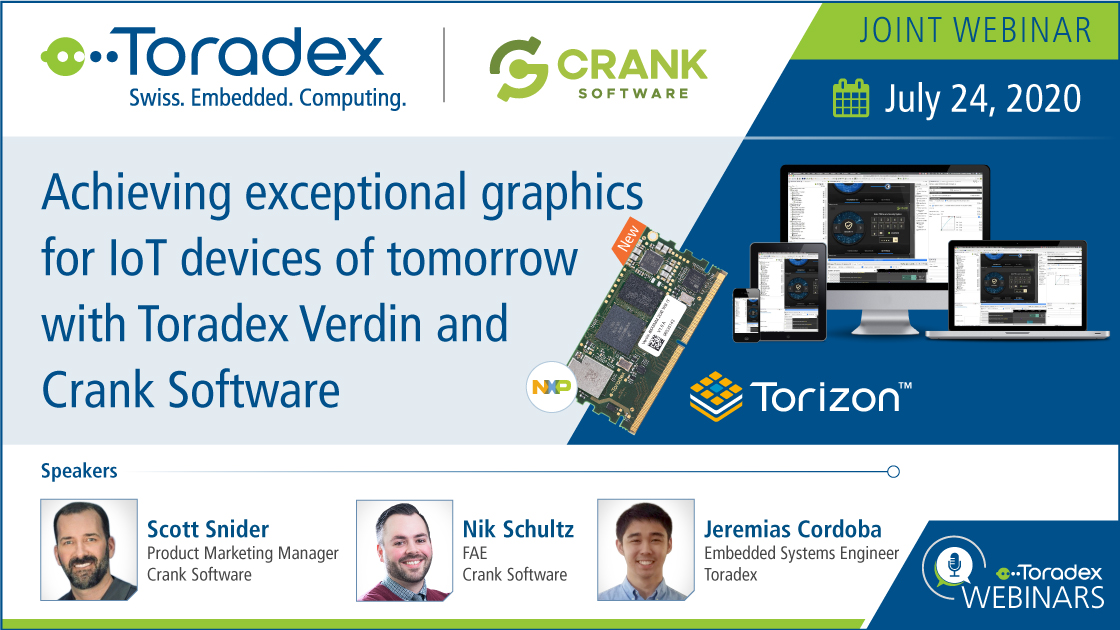 The considerable growth and investment in smart devices have created new opportunities for IoT-led innovation. Thanks to Toradex's Verdin, a future-proof SoM that provides the performance, scalability, and cost optimization required to power the next generation of embedded edge computing devices, consumers have plenty to get excited about when it comes to the future of connected devices.
Learn about how Toradex's industry-proven SoM boards make it easy to develop smart, connected, power-efficient devices for general purpose industrial, medical, and IoT application markets. In addition, Crank Software will demonstrate how to create rich, interactive user interfaces that are optimized for power consumption efficiency for the Verdin iMX8M Mini and iMX8M Nano applications processors using their UI design and development solution, Storyboard.
You'll learn about:
The opportunity for the development of connected devices using the Verdin iMX8M Mini/Nano applications processors
How Storyboard differs from traditional UI development tools in the market today
Key Storyboard capabilities that help maximize the resources used within your embedded application that can help your application leverage and maximize the hardware's full potential
Injecting events (locally or remotely) to simulate back-end behaviour to validate UI performance
Storyboard's graphical representation of performance data logs that provide valuable insight into UI design elements that might not be performing as expected
Please note: We will have a dedicated question and answer session at the end of the webinar.
Registration
11:00 A.M. - 12:00 P.M. (EDT)
---