Getting Started with System on Modules, and Torizon - an Industrial Linux Platform
Date
October 18, 2019
Speakers
Ritesh Kumar, Team Leader - Solutions Architect, Toradex India
Vishwas Kanwar, Country Sales Manager, Toradex India
Language
English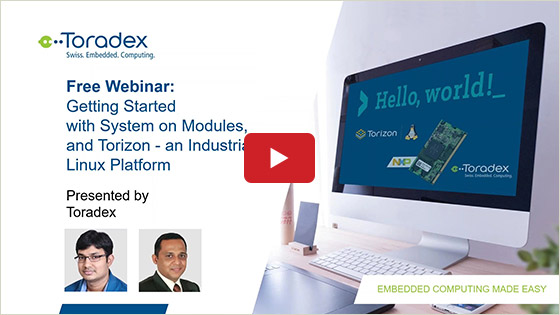 The use of embedded Linux continues to grow day-by-day, across many different applications.
Linux is highly customizable and offers a large ecosystem. Unfortunately, the flexibility comes with a price, Linux on embedded system is often not that easy-to-use and has a steep learning curve.
In this webinar, we will show you how to get started with embedded Linux and Arm®-based System on Modules, and also introduce you to Torizon - a new easy-to-use Industrial Linux Software Platform.
We will also take you through setting up the hardware until your first "Hello, world!".
The webinar covers the following topics:
System on Modules overview
Hardware setup
Yocto Project overview
Understanding the development flow with Torizon
Understanding Docker container
Writing Hello, world with Torizon
Updating process (Toradex Easy Installer)
Please note: You will also have the opportunity to ask questions in the live Q&A session at the end of the webinar.
Registration
11:00 A.M. - 12:00 P.M. (IST)
---