Guest Webinar: Harness the Power of Database for IoT Edge Device Data Management
Date
Oct 17, 2018
Speakers
Sasan Montaseri, Founder, ITTIA
Ryan Phillips, Software Architect, ITTIA
Stefan Eichenberger, FAE, Toradex AG
Language
English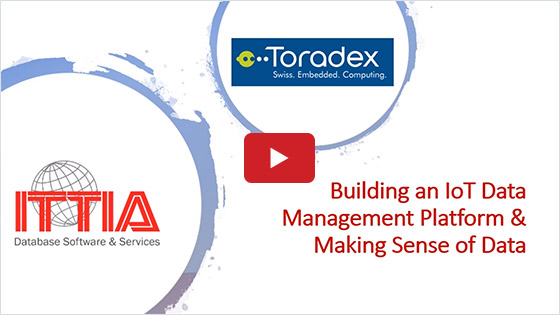 Whether your systems are measuring energy, pressure, wind speed or rainfall, collecting and managing large quantities of data from sensors and devices is a major challenge. During this webinar, we will share the software and hardware components used to build industrial IoT applications for a simulated smart factory with a focus on collection, storing, analyzing and distributing data. This is a great opportunity to learn how a common software and hardware architecture can simply be applied to develop a family of related products with varied capabilities.
With a live demonstration, we will share how manufacturers building industrial automation, medical device, power grid, transportation, and similar IoT systems can benefit from the incredible power of the right devices to manage and distribute embedded IoT data.
Key takeaways:
Learn about the advantages of edge-focused IoT Data Management and SQL
Device data management without relying on Cloud connection
Achieve high availability with database replication
See how to get started with a live demo
Get your questions answered by our experts in a live Q&A session.
Please Select your Time Zone

Registration
---