Date
October 16, 2020
Speakers
Yogaesh Tawker, Tech Lead - Camera solutions, e-con Systems
André Curvello, FAE & Technical Evangelist, Toradex
Language
English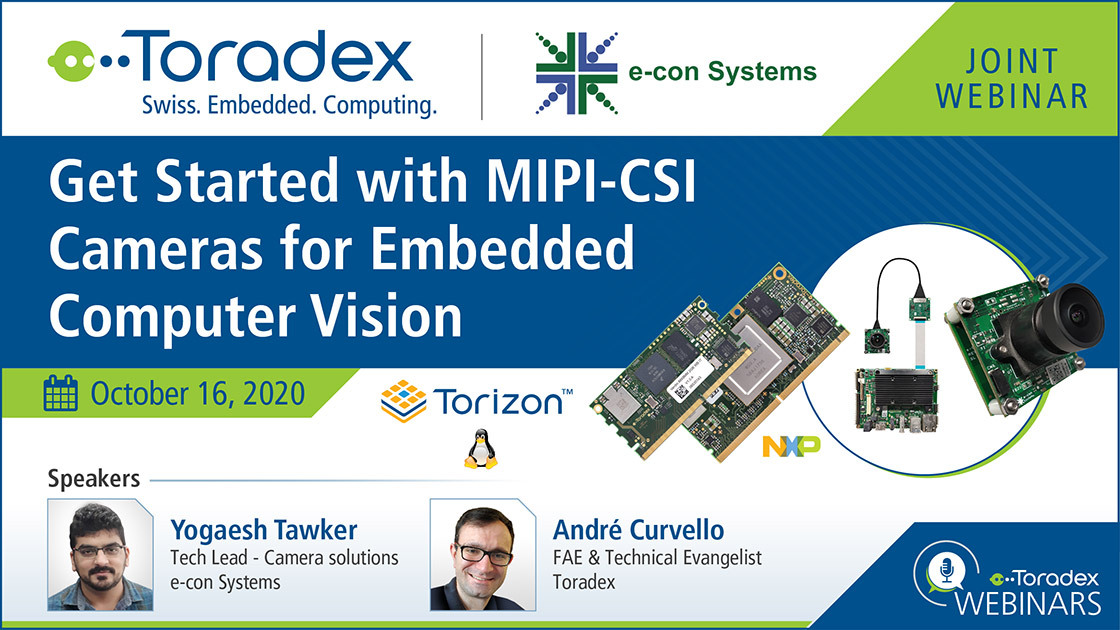 Progress in Computer Vision algorithms such as Deep Learning and ever more performant small embedded systems enable many new use cases. Cameras can now be tightly integrated into an embedded system, as interfaces such as Ethernet and USB are too bulky and add a layer of complexity. The most direct way to connect a modern Camera Sensor is via the MIPI CSI-2.
In this webinar, we will show you how the collaboration between e-con Systems and Toradex simplifies the integration of cameras in your products considering both, hardware and software. We will show you the out-of-the-box experience to your first simple OpenCV program and will give you tips and tricks along the way.
Additionally, we will explain the most important features to be kept in mind when selecting a camera. We will utilize the latest i.MX 8QuadMax and i.MX 8M Mini applications processors from NXP® on Toradex's Apalis and Verdin System on Modules(SoMs). On the software side, we will use Torizon and open-source embedded Linux with a focus on the ease-of-use.
Key takeaways:
Experience how to go from 0 to your first OpenCV program with MIPI CSI cameras

Understand how simple e-con Systems cameras are enabled in Toradex's embedded Linux offerings

Learn what an ISP is and how to select Camera modules for your next project

Discover how the NXP i.MX 8QuadMax and NXP i.MX 8M Mini SoMs accelerate product development
Get your questions answered live from experts at e-con Systems and Toradex.
Please Select your Time Zone

Choose your convenient Time Slot