Guest Webinar: Simple Provisioning and OTA Update of Connected Embedded Linux Devices
Date
Aug 23, 2018
Speakers
Drew Moseley, Senior Technical Solutions Architect, Mender
Brandon Shibley, VP of Innovation, Toradex Inc.
Language
English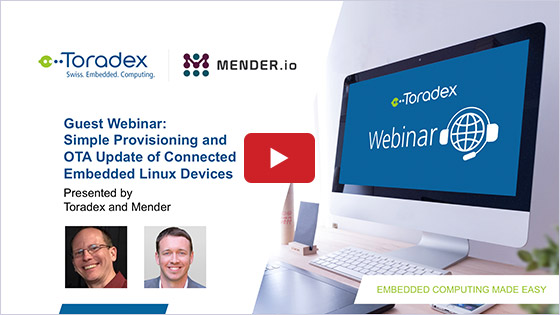 This webinar will present the Mender OTA update manager for connected Linux devices. The initial provisioning of the devices will be demonstrated using the Toradex Easy Installer onto a Toradex Colibri iMX7 platform. Further updates will be performed OTA using the Mender update management solution connecting to the Hosted Mender cloud-based server. Details of the Mender state script feature will be discussed which allows system designers to customize the update workflow for their specific use case.
Key takeaways include:
Insight on how to provision Toradex Colibri iMX7 using the Toradex Easy Installer with an image that supports Mender

Details on the Hosted Mender update manager
Connect device (authentication)
Upload artifacts

Create deployments
Customization of Mender update flow using state scripts
Get your questions answered by our experts in our live Q&A session.
Please Select your Time Zone

Registration
---