Press Release:


Toradex announces the launch of Torizon: a new, easy-to-use industrial Linux software platform
02 May 2019, Horw, Switzerland: Toradex, a leader in embedded computing, announces the launch of Torizon, a new, Linux-based software platform that makes developing and maintaining embedded software faster and simpler.
Torizon is provided for free with Toradex's Arm®-based System on Modules, and the beta version is available now. It is open-source and built with the Yocto Project you can find it on Toradex's GitHub.

Torizon was designed to give developers the chance to take advantage of the vast Linux ecosystem without the need to be a Linux BSP specialist. Toradex is a longstanding supporter of the Yocto Project, which is a great fit for many embedded use cases. However, for those new to embedded Linux, the learning curve can be challenging. Torizon provides a secure, high-quality option without many of the hassles traditionally associated with such a transition.
One of the main targets for Torizon are developers moving from the Windows ecosystem, a feature that simplifies this move is the Torizon Microsoft Developer Environment. It integrates with Visual Studio, making Linux application development and debugging more intuitive for Windows developers. .Net support is available in Torizon and a tighter integration is planned.
Are you considering moving your Windows or Windows CE application to Torizon? Toradex is giving away two packages of 30 support hours to help you accelerate your transition. If interested, please apply here.
Torizon is designed to cover many requirements of today's embedded devices, such as security and remote updates. The over-the-air update client is based on Aktualizr, a safe automotive-grade solution. The roadmap includes are several security features that let developers take advantage of hardware-based security solutions in a simple way.
Torizon focuses on a simple out-of-the-box experience, with a Debian container and a range of upcoming tools that help with development and system configuration.
"We looked for alternatives for WinCE, and after an in-depth evaluation of many OSs, such as Android, Windows 10 IoT Core, Commercial RTOS, and different Linux flavors, we decided that for most of our target customers, a Linux-based system in the best choice. But that meant we had to improve on the ease-of-use. The result was Torizon!" said Daniel Lang, CMO of Toradex. "The objective for Torizon is clear: we're bringing simplicity back while leveraging the Linux ecosystem. All while, we're providing the high quality required for industrial, medical, and other critical applications.", he added.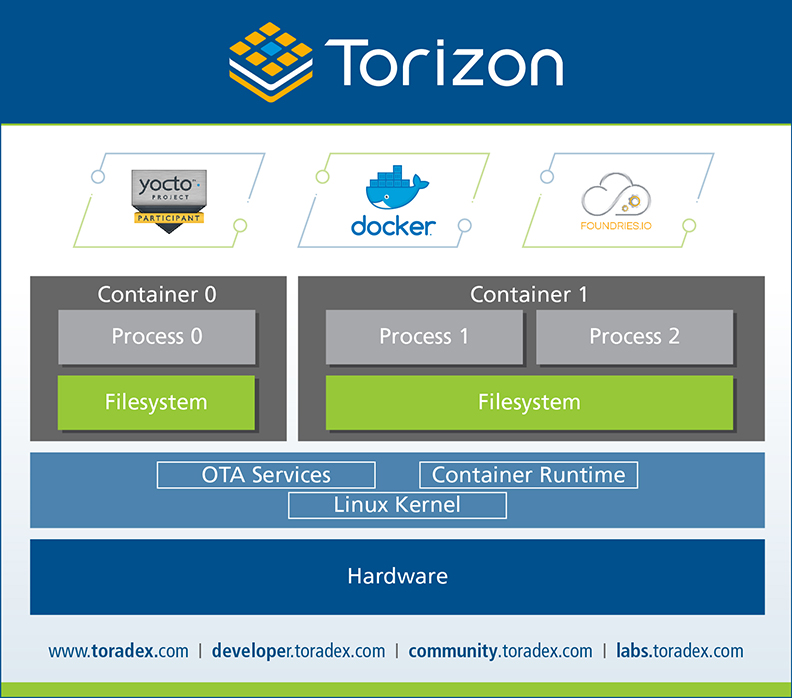 Torizon comes with an optional Docker runtime. Software containers simplify the deployment and maintenance of applications. While Toradex is one of the pioneers, this approach is beginning to gain a lot traction in the embedded industry.
More information about Torizon is available at https://www.toradex.com/operating-systems/torizon
Join our webinar on June 7th, 2019 for an introduction to Torizon. Register here.
Latest News
Tuesday, November 7, 2023
Wednesday, October 18, 2023