The Ixora carrier board is compatible with the Apalis Arm family of modules. The Ixora carrier board packs a large number of Apalis features into a very optimised small form factor which has been designed to be cost effective in small to medium volume applications. It is designed to be used with the Apalis iMX8 (based on NXP® i.MX 8QuadMax SoC), Apalis iMX6 (based on NXP® i.MX 6 SoCs), Apalis TK1 (based on NVIDIA® Tegra™ K1 SoC) and Apalis T30 (based on NVIDIA® Tegra™ 3 SoC) Computer on Modules.
The majority of standard interfaces supported by the Apalis modules are supported by the Ixora carrier board using a combination of real-world connectors, card slots and 2.54 mm pitch pin headers.
High-speed interfaces include Mini PCI-Express, MicroSD, Gigabit Ethernet and mSATA. Support for common industrial interfaces including I2C, SPI, RS232, CAN and GPIO makes the Ixora carrier board perfectly suited for industrial and embedded applications.
Supported multimedia interfaces include HDMI, LVDS, TFT LCD, Digital and Analogue Audio, 10 bit parallel camera interface, MIPI Camera Serial Interface, and Resistive Touch.

Plug and Play (Linux, macOS X, Windows XP – 10, Windows 10 IoT Core and Windows Compact Embedded 6/7 compatible)
BPSK, QPSK, 16 QAM, 64 QAM, DBPSK, DQPSK, and CCK modulation schemes
WEP, TKIP, and AES, WPA, WPA2 hardware encryption Schemes
Can be setup as a ad-hoc network via peer to peer communications
1 Carrier Boards, 8 Accessories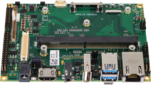 Small form-factor Apalis Arm Computer Module family Carrier Board
Connectivity: USB 3.0: 2x Host, USB 2.0: 1x Host / 1x OTG, Gigabit Ethernet, 2x I2C, 1x SPI, 4x PWM, 4x ADC, 2x CAN, 2x LEDs, up to 40 GPIOs
Multimedia: Audio out: 1x (Stereo), Audio in: 1x (Stereo), 1x / 1x S/PDIF In / Out, 1x 10 Bit Camera Parallel Interface, 4/5-wire Resistive Touch
Physical: 7-27V DC Supply Voltage, 5V 5A, 3.3V 5A On-Board Power Supplies, Size: 125 x 90 mm
| | | | | |
| --- | --- | --- | --- | --- |
| 1-99 | 100-249 | 250-499 | 500-999 | >999 |
| $99.70 | $94.10 | $91.85 | $89.60 | RFQ |
Currently low stock level. More coming soon. Please
contact us
for details.